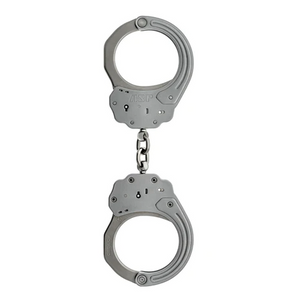 ASP Sentry Handcuffs, model 56100, feature I-beam inspired, rigidized frames made of corrosion-resistant stainless steel with a beautiful and unique bead-blasted finish. The dimensional profile of the double bars provides strength without excessive bulk. This—combined with a precision roller bearing pivot and forged steel bow—yields a hitch-free, smooth swing. Unlike traditional stamped steel cuffs, the frame and bow are manufactured to eliminate sharp edges and rough surfaces. This reduces the risk of subject discomfort or injury—common causes of complaints and liability claims against police departments.

In addition to their unique construction, Sentry Cuffs offer a variety of the exclusive operational features found in our top of the line Ultra Cuff restraint family. These include dual-sided keyways and double lock slots, to speed application and removal. The forged heat treated steel bows have flat contact areas, so they apply more precisely and safely. A single-direction key turn releases the double lock and then the bow, and also allows for safe, easy "loosen and lock" adjustment.
1 ASP handcuff key included. They will fit in Hero's Pride cases or any cases for ASP, S&W Model 1 or Peerless 801 hinged.